Discover The Safety Features Of The 2019 Kia Sorento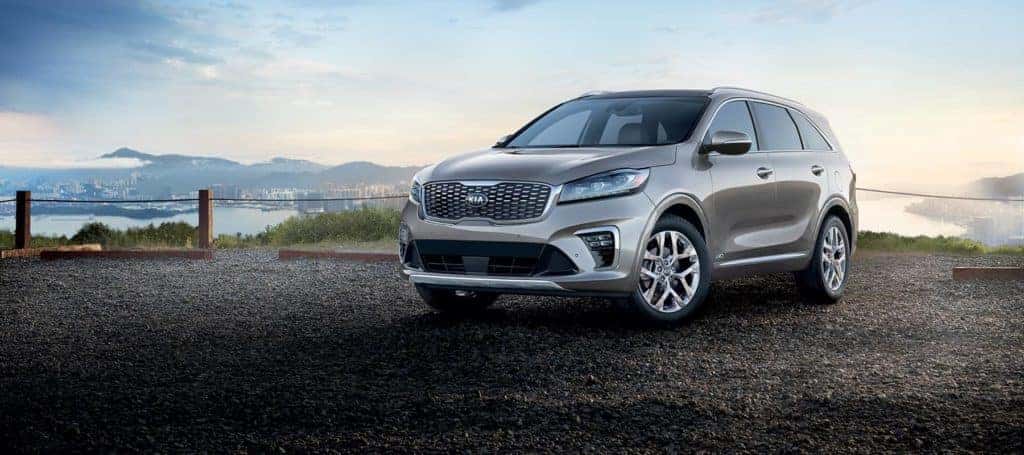 Life Saving Features In Every Vehicle At Rountree Moore Kia
When going through the process of buying a new car, truck, or SUV from Rountree Moore Kia, safety should be one of the main concerns you have. Not only safety for yourself, but for your passengers and the other drivers around you. Each and every modern-day vehicle comes with numerous safety features that we generally don't pay attention to but they are lifesaving. The 2019 Kia Sorento safety is no exception to that. When you come to Rountree Moore Kia, you can experience all the innovative safety features this new mid-size SUV has to offer.
Common Safety You Don't Want To Forget
There are certain aspects of every modern vehicle that you don't really think too much about, but they are necessary. Seat belts are a great example and every Kia Sorento comes equipped with 3-point seat belts that are designed to tighten in the anticipation of an accident to reduce the likelihood of being injured. Along with the regular seat belts, the 2019 Kia Sorento has the LATCH system for child safety seats. This includes lower anchors and tethers for quick and easy installation. Keeping your child safe is priority in any vehicle and Kia knows this. They also equipped the rear doors with safety locks to stop your child from opening them.
Airbags are another important feature on a modern vehicle that probably stays at the back of your mind. With the 2019 Kia Sorento, they have side curtain airbags that can reduce the injury in case of an accident. These airbags are controlled by sensors that can determine when an accident is imminent or is happening. Another great feature is the Rollover detection. When your Kia Sorento senses that you might be rolling over, it will release the side, curtain and seat belt airbags to reduce injury.
Staying Stable With Kia
Kia has gone above and beyond to feature as much safety as they can in the 2019 Kia Sorento. These features include anti-lock brakes, electronic brake-force distribution, brake assist system and hill start assist control. All these brake systems work to distribute the brake force and adjust the pressure according to how you are driving. Additionally, the anti-lock brakes help prevent your wheels from skidding. One of the helpful features is the Hill Start Assist which will prevent your 2019 Kia Sorento from rolling backward when you start driving up a hill.
With great brakes, comes the need for great stability. The 2019 Kia Sorento has multiple stability features to assist you. The Vehicle Stability Management adds steering control capability along with the Electronic Stability Control (ESC) which will enhance control and improves your directional stability. The ESC will apply the brakes to individual wheels and will reduce the engine power. And one feature that is in most modern vehicles is the Traction Control System. This system will sense wheel spin and combines the engine power with the brake force to increase control. Discover all the Kia Sorento safety for yourself at our Kia dealership in Lake City, FL.
Reduce The Pain Of An Accident
Being in an accident is no joke and here at Rountree Moore Kia, we want you to be as safe as possible. For those unfortunate moments where an accident is inevitable, the 2019 Kia Sorento has side impact door beams made from reinforced steel. These absorb the energy from the impact and deflect the force. To help distribute the energy even more, the Kia Sorento has front and rear crumple zones that preserve the passenger compartment.
Sometimes we get distracted and other times the road conditions are not ideal for slowing down and stopping, so the engineers at Kia have included available Forward Collision Warning in the 2019 Kia Sorento. This detects road hazards in front of you even when you don't or can't. Meanwhile, available Forward Collision Avoidance with Pedestrian Detection may apply the brakes to attempt to avoid a potential collision. Check out all this safety at our Lake City, FL car dealership, Rountree Moore Kia.
Award-Winning Safety
There's no better feeling than knowing your next car is safe. The 2019 Kia Sorento not only received a 5-star overall rating from the NHTSA, but it is also an IIHS 2019 Top Safety Pick+. These 2 awards can give you peace of mind that when you buy a Kia Sorento at Rountree Moore Kia, you are protecting your safety on the road. Stop by today to test-drive the super safe 2019 Kia Sorento today.